Welcome
We are a family-owned company deeply rooted in the heart of Switzerland.
We are a recognised and trusted producer of CBD products, with a reach spanning over 60 countries worldwide.
Our story began in 2013, born out of a passion for natural health, wellness, and a commitment to quality.
We have since grown into a leading name in the CBD industry, known for our dedication to producing organic health, cosmetics, and nutritional products of the highest quality.
Our Story
Our journey began in the picturesque town of Baar, located in the canton of Zug, Switzerland. Here, amidst the lush greenery and serene landscapes, we found the perfect setting to start our venture.
We were inspired by the potential of hemp, a plant with a rich history and an array of beneficial properties. Our goal was to harness these properties to create a line of products that promote health and wellbeing.
Over the years, we have expanded our operations, but our commitment to quality and natural production has remained unwavering. We produce, research, and develop hemp plants with a high yield of CBD and a full spectrum of natural cannabinoids.
Our production processes follow organic principles, Good Manufacturing Practices (GMP), and ISO 22716-2007, ensuring that our products are of the highest quality.
Button label
Our Mission
Our mission at Formula Swiss is simple yet profound:
"To help humans and animals live a better life by giving them the highest quality natural hemp products with documented effects at prices everyone can afford."
We believe in the power of nature and strive to create products that are not only effective but also safe, natural, and affordable.
We are committed to natural production, using only organic principles from seed to harvest, without the use of fertilisers or pesticides. Our products' ingredients are natural, and we avoid adding artificial or chemical elements to our product formulations. We believe that this commitment to natural production and quality is what sets us apart and aligns us with our mission.
Our Companies
As we have grown, so has our structure.
We are proud to introduce our subsidiaries:
Formula Swiss Medical ApS in Denmark is working on developing medical cannabis products for Scandinavia.
Button label
Subsidiaries in The United Kingdom, Portugal and Denmark
Customers in The United Kingdom can buy from us without any hassle

Our subsidiary Formula Swiss UK Ltd. in North Yorkshire ensures our customers in the United Kingdom can purchase all our products via a local company without having to worry about import fees, taxes and duties customs after Brexit.

Visit our UK webshop

Direct-to-consumer sales from European warehouses

Our European direct-to-consumer sales is handled by our EU-company, Formula Swiss Danmark ApS located in the center of Copenhagen in Denmark.

We deliver to all of Europe from our European warehouses and pay all customs and duties on behalf of our customers.

Joint-venture with strong local partners in Portugal

In Porto, we have established Formula Swiss Portugal Lda. as a joint-venture with strong, local partners in Portugal.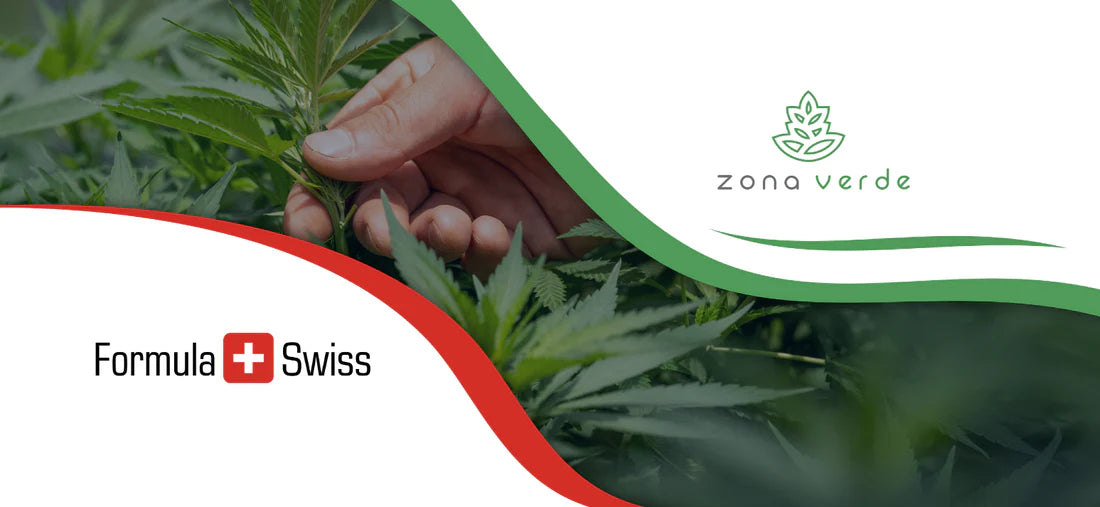 Partners in Romanian cannabis retailer
In May 2022, we acquired 50% of the shares in the leading cannabis retailer in Romania.
Read more
Nature's Best, Our Promise
At Formula Swiss, we firmly believe in the power of nature. Our promise to you is to harness nature's best, delivering products that are not only effective but also safe, natural, and sustainable.
This commitment is reflected in every step of our production process, from the seed to the shelf.
Organic Production: From Seed to Shelf
Our journey begins with the seed. We source our hemp seeds from trusted, organic farms, ensuring that our products start with the best possible ingredients. These seeds are then planted and nurtured in our farms, where we adhere to strict organic farming practices. We avoid the use of chemical fertilisers and pesticides, opting instead for natural alternatives that are safe for both the environment and our consumers.
Our commitment to organic production extends to our extraction process. We use a proprietary supercritical CO2 extraction process to extract the beneficial compounds from the hemp plant. This process is not only safe and efficient but also environmentally friendly, producing no harmful by-products.
The result is a pure, potent CBD oil that retains a full spectrum of cannabinoids, terpenes, flavonoids, nutrients, and antioxidants.
Sustainability: Our Green Commitment
Sustainability is at the heart of our operations. We understand the importance of preserving our environment for future generations, and we strive to minimise our impact on the planet. Our commitment to sustainability is reflected in our use of 100% renewable energy sources in our production process. We harness the power of solar and water energy, reducing our reliance on fossil fuels and our carbon footprint.
We also strive to maximise our production efficiency while minimising waste. We use high-efficiency LED grow lamps in our cultivation process, which not only provide optimal light conditions for our hemp plants but also consume less energy than traditional lighting systems. Our multi-layered plant placement strategy allows us to maximise our production per square meter, reducing the need for additional land use.
In addition, we are committed to reducing our CO2 emissions. We achieve this by increasing natural airflow in our grow rooms and using hemp plants to clean the air. Hemp plants are known for their ability to absorb CO2 from the atmosphere, making them a natural solution for reducing greenhouse gas emissions.
In conclusion, our promise to you is to deliver nature's best in a way that respects and preserves our environment. We are committed to organic production and sustainability, ensuring that our products are not only good for you but also good for our planet.
Discover Our Products
At Formula Swiss, we offer a diverse range of products designed to cater to your unique needs. Our product line is extensive, encompassing everything from CBD oils for humans and pets to skincare products and custom formulations. Each product is crafted with care, using only the highest quality ingredients and adhering to strict production standards.
CBD Oils for You and Your Pets
Our CBD oils are among our most popular products. We offer both full-spectrum and broad-spectrum CBD oils, ensuring that you can choose the product that best suits your needs. Our CBD oils are designed to be easy to use, with a dropper included for precise dosing on the skin.
But we don't just cater to humans. We also offer CBD oils specifically formulated for pets. These oils can help support your pet's health and wellbeing, providing the same benefits that our human customers enjoy.
The Power of CBG and CBN Oils
In addition to our CBD oils, we also offer CBG and CBN oils. These cannabinoids offer their own unique benefits and can be a great addition to your wellness routine. Our CBG and CBN oils are produced using the same high standards as our CBD oils, ensuring that you receive a product that is potent, pure, and effective.
Beauty Through Nature: Our CBD Skincare Range
Our commitment to natural, organic production extends to our skincare range. We offer a variety of CBD-infused skincare products, including creams, balms, and serums. These products are designed to nourish your skin, harnessing the power of CBD along with other natural ingredients to promote healthy, glowing skin.
Breathe Easy: Our CBD Vape
For those who prefer to inhale their CBD, we offer a range of CBD vape products. Our CBD vape oils are carefully formulated to deliver a smooth, enjoyable vaping experience. They are available in a variety of flavours, allowing you to choose the one that best suits your taste.
Pure and Simple: Our CBD Flowers
Our CBD flowers are as close to nature as you can get. These flowers are harvested from our organic hemp plants and are available in their pure, unprocessed form. They can be used in a variety of ways, offering a versatile option for those who prefer a more natural CBD product.
Swiss Quality, Global Standards
Certifications: Vegan and Organic
Our Commitment to Best Practices
Scientific Research and Studies
Certified organic and vegan by the highest standards
For us, natural means following organic principles for every step in the production from seed to harvest without using fertilizer or pesticides. It also refers to our product ingredients being natural and without adding artificial or chemical elements to our product formulations.
Our CBD plants are carefully tested before being CO2 extracted, winterized, and decarboxylated up to 95% to improve the CBD oil's quality, potency, and effect.
Our proprietary CO2 extraction process uses pressurized carbon dioxide (CO2) to extract phytochemicals from the cannabis plant. CO2 extraction is the most expensive extraction method. It is widely considered the most effective and safest hemp plant extraction method in the industry. It results in a very pure CBD oil with a full spectrum of cannabinoids, terpenes, flavonoids, nutrients, and antioxidants.

We produce more than 300 different cannabis products from industrial hemp made outdoor, indoor, or in greenhouses following organic principles.
Our products are certified vegan by The Vegan Society in the United Kingdom and certified organic by COSMOS ORGANIC in Germany.